Residents of JACKSON COUNTY who live in
KANSAS CITY
city limits will need to contact the
KANSAS CITY ELECTION BOARD
at
NOTICE OF PUBLIC TEST
The Board's tabulation equipment will be tested February 3, 2020 at 9:00 a.m. in our offices located 215 N. Liberty, Independence, Missouri.
Per State Statute 115.233 RSMo.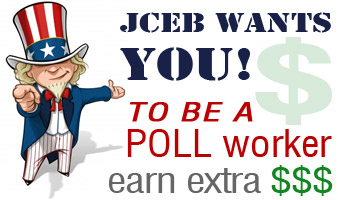 Now Recruiting Poll Workers for 2020
Click HERE to learn more about Election Worker duties, or call our office at 816-325-4600 to inquire.
For more Information view the Election Judge Instructional Presentation on the Election Worker Training page.